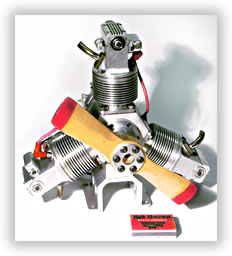 Above: prop/output side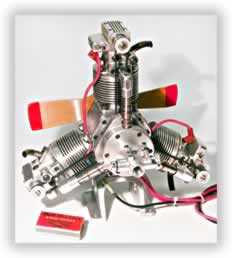 Above: intake side
Below: intake side detail showing cam drive, intake manifold and unmuffled exhaust.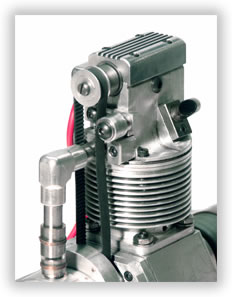 ENGINE NO. ELEVEN DATA
Cylinders: 3
Type: 120 degree radial
Bore: 1.000 "
Stroke: 0.875 "
Displacement: 2.03 cu in
Compression Ratio: 7.1:1
Valve train: SOHC, timing belt drive
Ignition: Glow plug
Cooling: Air
Fuel: 15% nitromethane/methanol mix
Est. Max. RPM: 8,000
Est. Horsepower: 2.0
BUILDER'S NOTES
Background -- Propeller aside, this radial engine was not built to power a model airplane. Nope, "the Biter" as it came to be known, is just another experimental project, albeit an interesting one from both design and fabrication perspectives.
Construction -- No castings here; this is another all billet project, which has become my preferred approach. The one-piece stressproof crankshaft has an internal flywheel. A 2:1 gear/timing belt drive actuates each camshaft, which in turn actuates the valves using leaf type actuators. No pushrods or buckets. A home made variable venturi carburetor handles fuel/air metering and feeds a circular plenum containing a rotary vane fuel distribution system that ensures that all three cylinders get their fair share of the fuel/air mix. A 16/6 propeller provides an operational load while delivering cooling air to the cylinders.
Operation -- The original implementation of this engine didn't have the rotary vane fuel distribution system and was a somewhat ragged performer. In its current configuration, though, it's become a strong, smooth performer that's plenty capable of drawing blood of a certain engineer who was not sufficiently wary, hence the nickname "the Biter."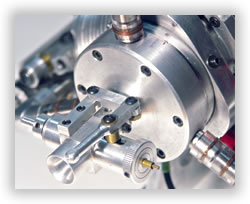 Carburetor & manifold detail.
ENGINE DETAIL PAGE LINKS
(click on buttons)