THIS JUST IN
November 10, 2016 -- We are much saddened to report that Mysterelly passed away on October 13 of this year, roughly 2-1/2 months shy of his 100th birthday. We family members miss him already, but we take heart that his creations and contraptions will live on for at least another century. Maybe more.
PROP YES; PLANE NO
August 7, 2011 -- The detail below homes in on just one of the three radial cylinders that send a total of 2 HP to a mean, red-tipped 16/6 propeller. Check out the newest engine page for a lot more on Engine No. 11, which Mysterelly completed a while back. Alas, it has taken the webmaster almost as long to get the new page constructed and a bunch of other updates handled.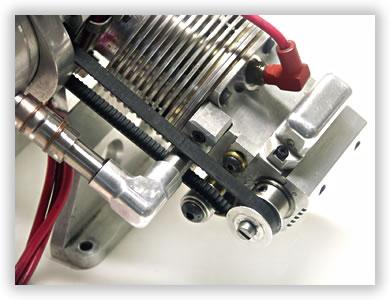 TOP SECRET WATERMELON MORTAR* DESIGN LEAKED TO WORLD
December 25, 2009 -- As a Christmas present to whimsically challenged people the world over, this website is proud to leak this genuine TOP SECRET Outback Engineering Watermelon Mortar design in PDF format. While it's totally FREE, viewer/fabricator discretion is advised and no warranties of any sort are expressed or implied.
* We're not talking about the kind of mortar used to glue bricks together.
CAMMER JAMMER DEVELOPMENT
February 24, 2008 -- Here's a picture of the finished cam grinder, which, on its inaugural voyage, ground the cams for the new DOHC hemi head for good ol' Engine No. 6. The grinder component (in blue) was the Myster's very first bench grinder (1930's vintage?), but most everything else but the feed motor was engineered and fabricated from scratch. Natch. Works great so far.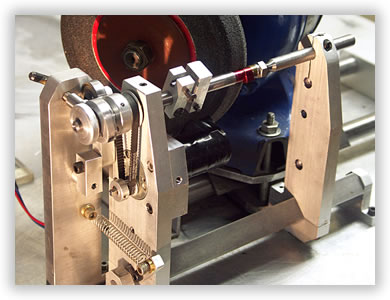 ENGINE NO. 6 GETS A BIG HEAD
February 24, 2008 -- A while back, the engine barber sort of went overboard and did a total decapitation job on poor ol' No. 6, a single cylinder job that is one of Mysterelly's top performers. But it's all part of the process of giving Engine No. 6 a DOHC hemi recapitulation. Although the reheaded No. 6 is working, it's still a work-in-process, but the new head has some unusual features. Click on the link for the latest.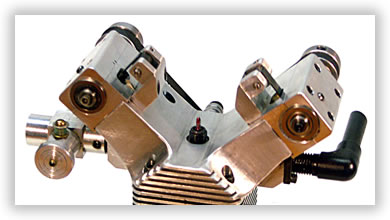 NEW TOOLS: GEAR CUTTERS
February 24, 2008 -- Because the the cog-belt cam drive on the new Engine No. 6 was leaping teeth at high revs, the Myster decided to design a gear drive instead. That (by the inevitable logic by which hardcore do-it-yourselfers operate) led to the acquisition of a selection of gear cutters.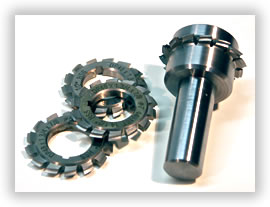 With the addition of these gear cutters, the Myster can now cut four different pitches of gears.
T-HEAD EXPERIMENT
January 21, 2008 -- Mysterelly's T-head single is a type of engine that enjoyed popularity during the early part of the 20th century. Take a pictorial ride back into motoric yesteryear when you visit the new Engine No. 10 page.



A couple snippets of the T-head engine (No. 10).
BRIDGEPORT REMOTORED, SORT OF
January 21, 2008 -- On the tooling front, the venerable Bridgeport milling machine recently got some not-so-inexpensive motor repairs. Turned out to be the phase conversion gadget, not the motor itself. To celebrate, Mysterelly built a cam grinder that will help make better cams in much less time (see above).